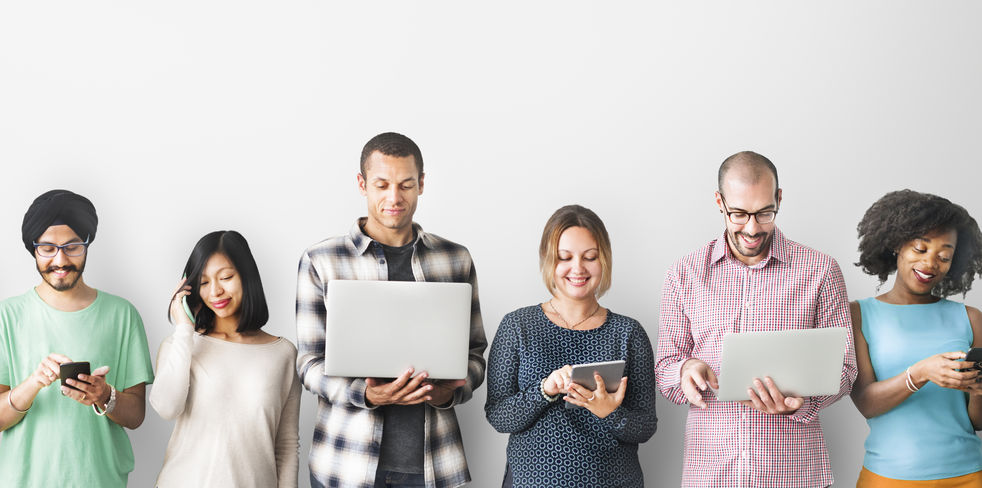 There's more noise on the internet than ever before, and it's getting harder and harder to make your content heard.
Still, social media is an essential marketing tool, and, despite the noise, it isn't impossible to create content that speaks volumes. Here's what to keep in mind as you post, tweet, and share your way through 2020.
Old MacDonald was onto something
With all the noise and competition, you need to make sure your content stands out. Think E-I- E-I-O. You should always aim to create content that is at least one of the following: emotional, informative, engaging, inspirational, and original. Pumping out ultra-polished content with award-winning photography and earth-shattering copy 5 days a week isn't practical or necessary. Get to know your audience and tailor your content to them. Don't create content for the sake of filling your grid. Offer your followers content with value.
Work smarter, not harder.
Be smart about how you invest your time and resources. Spend time building a community of loyal customers, vendors, and influencers. Answer their questions thoughtfully and promptly, and stay active. Use your social presence to gain interest and respect. Choose which influencers you partner with wisely. More isn't always merrier. One long-term partnership is more valuable than a bunch of short-lived (read: unauthentic) partnerships.
Invest in an annual marketing strategy. Planning and evaluating your social strategy month-by-month can be overwhelming, and won't allow for many learning opportunities. Go into the year with a strategy and take the time to evaluate and learn from it.
Invest in A/B testing. It can tell you what your audience wants to see and help you create tailored content that is way more likely to trigger the audience reaction you want to see.
Here are some tools and tips we think make for some pretty cool content:
Mean business. Make sure all your social profiles are business profiles. This way, you'll have access to some basic business analytics like your followers' age and location, plus the times when they're most active. This'll help you make the most of your content.
Likely story. Have fun with Instagram Stories. They're a great way to add some less-polished content to your page and show off your brand's personality. Fastory is a super cool site that allows you to share your IG Stories on your website.
#Hashtag – Hashtag Expert for IG is a great app that searches its database of millions of hashtags to find the ones that will perform best for you. Be smart with hashtags. On Facebook, keep them to a minimum, and incorporate them into your caption. On Instagram, opt for ten or less.
Prepare for change
Social media has changed a lot in the past decade and we can expect even more changes in the decade to come. We can expect more and more people relying on social media for easily- digestible and highly entertaining content. Shorter, animated content is ideal for keeping your followers engaged.
Humans are natural storytellers and in 2020, we'll see social tap into peoples' love of narrative. For the release of their latest phone, Samsung Russia is planning to steadily-release a series of one-minute videos on Instagram that are predicted to hook users the same way those ever-bingeable Netflix shows do.
Instagram and YouTube are going to be a first stop for curious customers. Before turning to Google for product information and reviews, people will turn to YouTube for real-life product reviews and recommendations. Before visiting your website to see what you're all about, the social-savvy will look for you on Instagram.
Use thoughtful hashtags that will put your name on the other end of searches your product or service can solve. Make sure your social profiles are armed with a unique and informative bio, a simple and easy to read handle, and a clear, attractive profile picture.
One size doesn't fit all
Each social network has its audience. LinkedIn is the place to be for B2B. TikTok is a must for any international ecommerce looking to capture the attention of Gen Z.
When deciding which platforms to act on, think about your audience and your goals. What is your product? What kind of content will help you reach them? Long-form blogs are better shared on Facebook and Twitter; highly visual brands can thrive on Instagram and Pinterest. Segment and adjust your message to each channel rather than spreading one generic message to every corner of the internet.
Here are three awesome Instagram accounts that are doing something very right:
@postmates – aesthetic tho. Does Postmates operate in the Peg? No. Do we need to know where Zendaya orders her pizza from? Absolutely.
@patekphilippe – A gorgeous grid that keeps on giving. This watch company has mastered a grid style that many others have failed to achieve. How? While it's all part of a larger picture, each post provides new, thoughtful, and engaging content.
@josiemarancosmetics – A cosmetic brand that isn't too polished, but rather playful, personal, honest, and inspiring. It's a refreshing, feel-good follow.
It's never too late
Now, what if you're not on social? What if you don't know what a hashtag is and you're too afraid to ask? Or what if your regular old content just isn't working for you anymore? Talk to Vantage, we'll help you out.
Follow us @vantagestudios or visit our website at vantagestudios.ca